3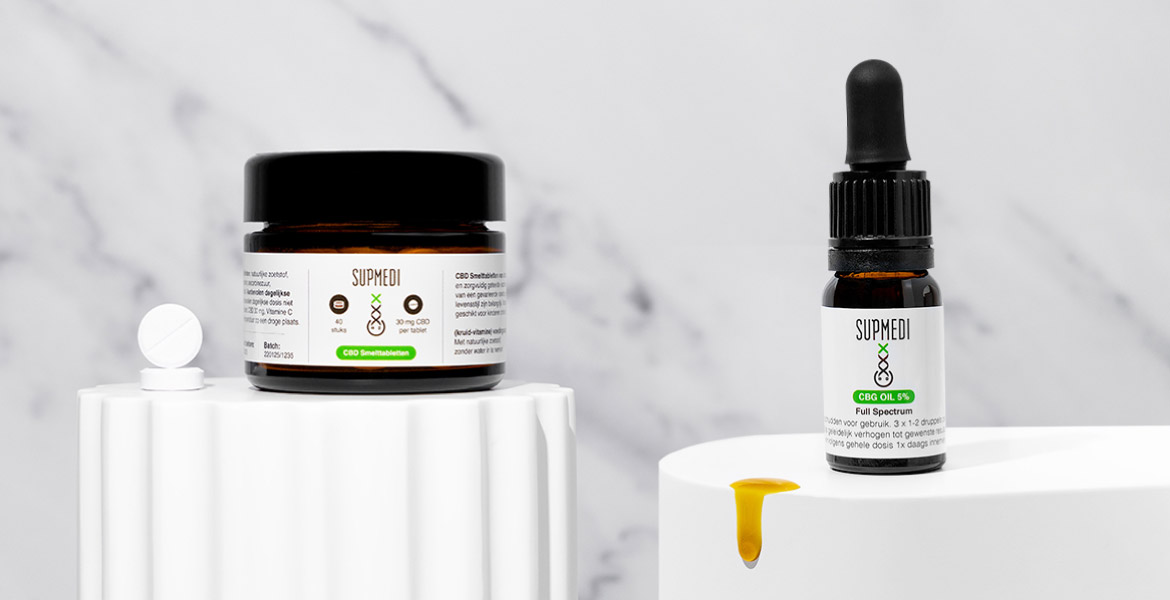 CBD Oil, tablets, or capsules: which are best?
25 August 2022
CBD Oil is the best-known CBD hemp supplement available today. Yet there are many other ways to use CBD, including tablets, edibles, or CBD capsules. But what is the best way to use CBD? Are CBD Tablets better than CBD Oil or capsules? This blog explains all!
Does it matter whether you choose CBD Oil, tablets, or capsules?
Ever more people discover the huge range of applications for CBD supplements. As a result, we see different CBD products entering the market, but these supplements are not all created equal. The way in which you take CBD supplements can definitely make a real difference. This is actually the main reason why you'll find such a varied product range in the SupMedi online store. Which CBD supplement is your perfect match largely depends on your personal taste and preferences, but it helps to know what the differences are. It's not just a matter of flavour or ease of use: the effectiveness and efficiency of the active components vary, too. It jst goes to show that it matters whether you choose CBD Oil or prefer tablets or capsules instead.
Spoiler alert: We do not sell CBD capsules at SupMedi, and for good reasons as you will read below…
CBD Oil, tablets, and capsules: different methods of use
For most people, the difference between CBD Oil or capsules and tablets is chiefly a matter of taste and personal preference. Capsules are easy to swallow, we tend to think, and they don't taste so strongly of the organic olive oil SupMedi uses as a carrier oil.
Yet there is a more important difference between CBD Oil and tablets on the one hand, and capsules on the other. This difference is all about the way in which our body absorbs their active ingredients.
CBD (cannabidiol) only takes effect once it enters the bloodstream. It must be actively transported through the body by the circulatory system in order to improve the balance or homeostasis of our body. Once in the blood, CBD can connect with the receptors of the endocannabinoid system (ECS) to which it owns its effectiveness. But our body can transport CBD to into the bloodstream by several routes., some of which are faster than others. Moreover, ingestion through the stomach and digestive tract causes greater loss of active ingredients than direct absorption in the mouth. This explains why CBD Oil and our CBD Tablets offer distinct advantages over CBD capsules.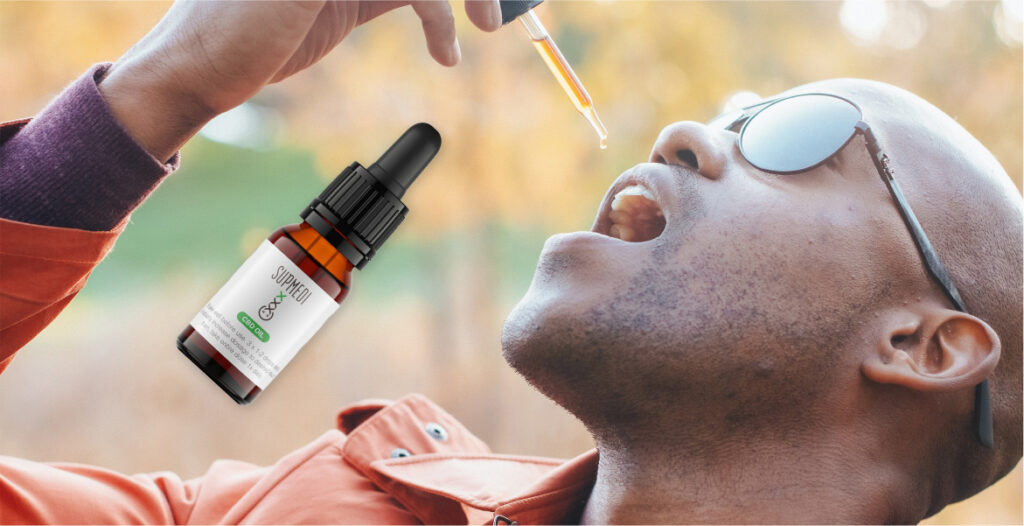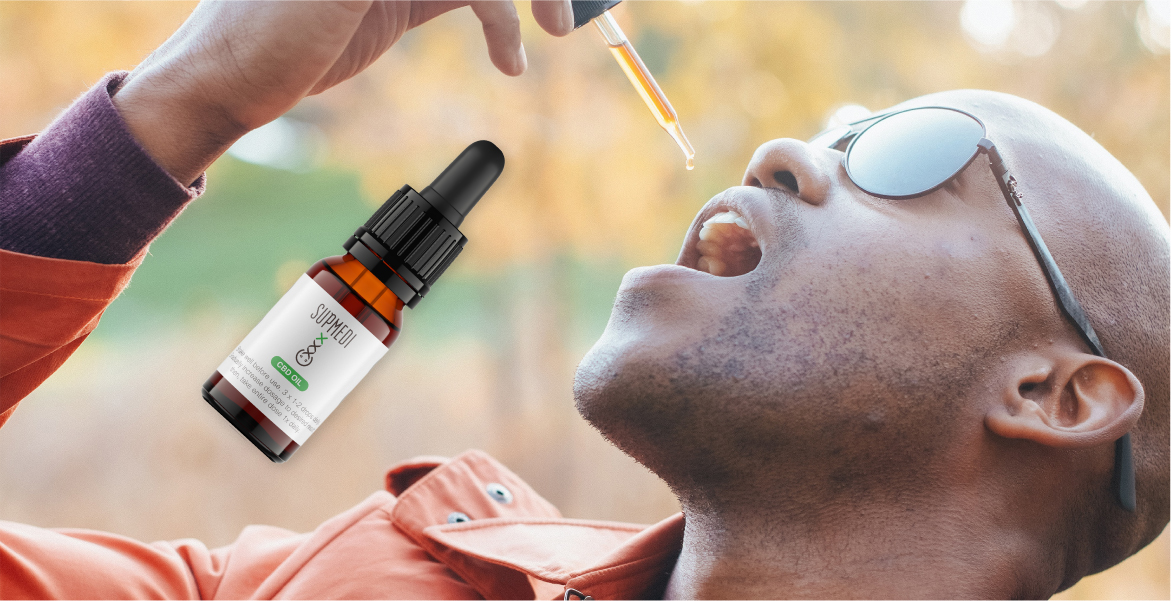 CBD Oil and rapid absorption in the mouth
The usual way of using CBD Oil is to place a few drops underneath the tongue and waiting before you swallow. As you wait and hold the oil in your mouth, its active components are absorbed by the mucous membranes in your mouth. This carries them directly into the bloodstream, for quick delivery right where their effects are needed most.
Perhaps more importantly, sublingual absorption causes minimal loss of CBD and other active compounds compared to just swallowing down your supplement. That can really optimise the effectiveness of your CBD supplement!
CBD capsules and absorption in the stomach and intestines
CBD capsules usually contain the same compounds as CBD Oil or tablets, only wrapped in a protective layer (the actual capsule) that is slowly broken down in the stomach and intestines. As a consequence, the capsule releases its active ingredients only after some time passes. What's far more serious, however, is the environment into which these compounds are released. The stomach and our bowels are full of acids and other aggressive chemicals used to metabolize food. Unfortunately, though, these chemicals also break down CBD, leaving less of it available to produce the effects you seek.
After passing the stomach, the contents of the capsule have to pass the liver too before reaching the bloodstream, resulting in even greater breakdown of CBD. This leaves considerably less CBD available once the contents of the capsule finally do reach the bloodstream.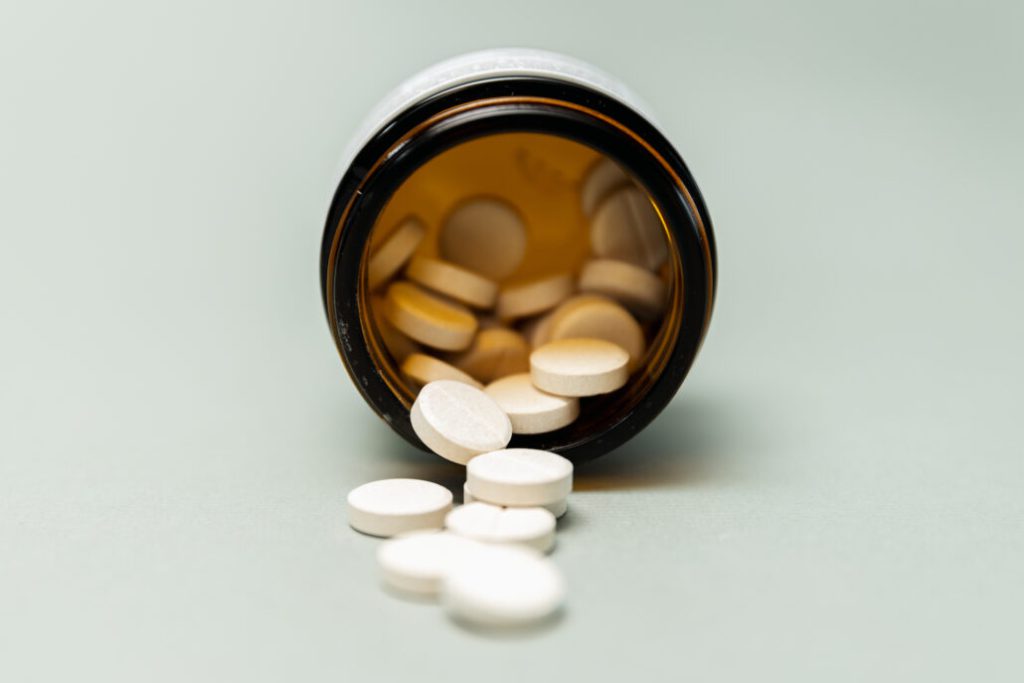 CBD Tablets: more practical than oil; more effective than capsules
CBD Tablets are quite different from capsules, even if they appear more similar to capsules than to oil. SupMedi Tablets are just like CBD Oil in the way they are quickly absorbed not the bloodstream by the membranes of the mouth. The tablets just melt in your mouth, so you won't need water and you can take them wherever and whenever you like without swallowing. Their refreshing orange flavour makes these melt tablets more of a treat than a traditional supplement, and they contain added vitamin C to further speed up their absorption.
Many of our customer find CBD Tablets the most convenient way of taking their daily supplement. They are very easy to carry with you, whether you're headed for work, school, or abroad – or simply out and about. Best of all, they're inconspicuous and easy to use discretely, which making them even more suited for working on your natural balance anywhere without anyone noticing!
CBD Candy: even tastier than tablets!
When it comes to taste, our CBD Candies are even fruitier than our orange-flavoured CBD Tablets. These treats contain the same premium CBD, but they are made using natural fruit powder that turns your daily supplement into a strawberry-flavoured celebration. Like their tablet counterparts, these special candy treats also melt in your mouth for rapid absorption. That makes them more effective than capsules just like CBD Oil and CBD Tablets – and at least as tasty, which makes them extra perfect for children aged 4 or above!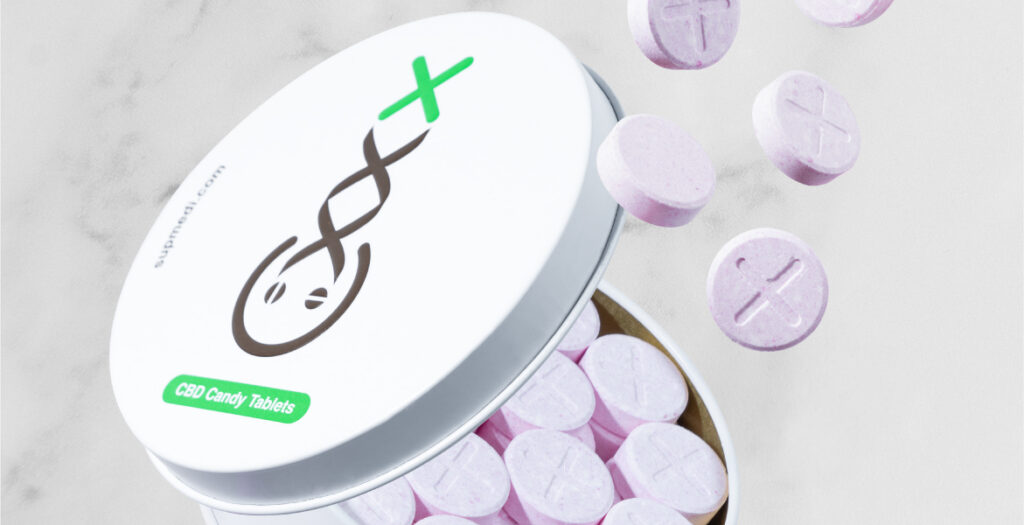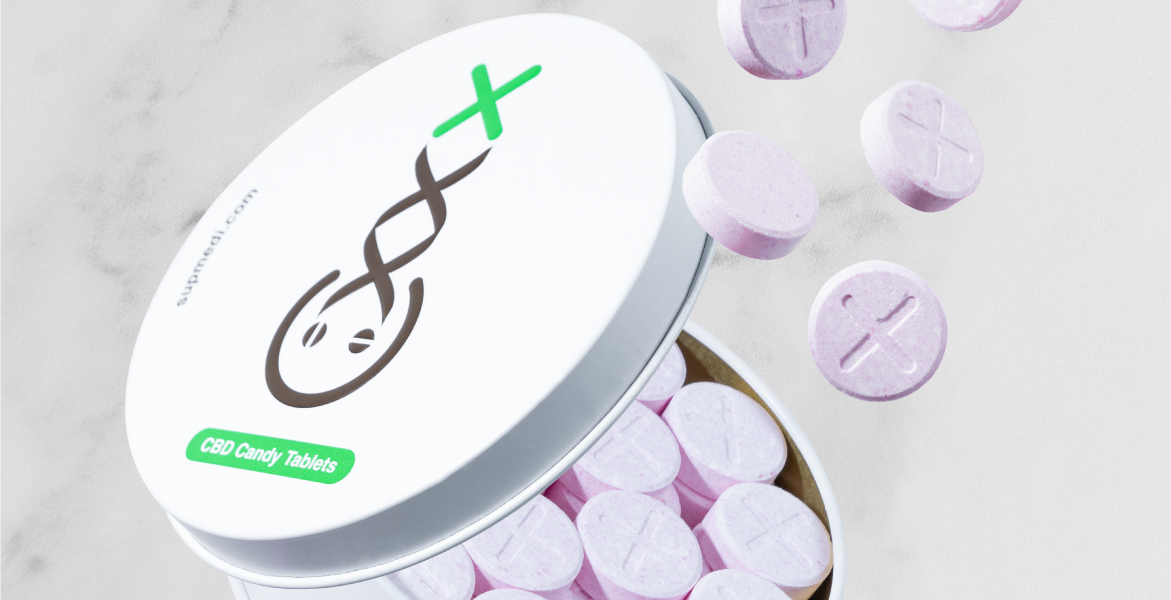 Full Spectrum Oil vs tablets and capsules with CBD isolate
There is another important difference between our CBD Oil and either capsules or tablets. Our CBD (and CBG) Oil is a so-called full spectrum supplement, whereas our tablets and most capsules are made using CBD isolate. Full spectrum hemp extracts come from the same high-grade fibre hemp plants as isolate, and so they contain the same CBD. The big difference, however, is that full spectrum oil also encompasses the entire range of other active hemp ingredients.
CBD Tablets and most capsules contain only CBD, while Full Spectrum CBD Oil also contains other cannabinoids such as CBG (cannabigerol) and CBN (cannabinol)  as well as terpenes and flavonoids. This facilitates even greater potential than that of CBD alone, as the various compounds in the spectrum can mutually influence and reinforce each other's results through what science calls the entourage effect.
The one cannabinoid you will not find in Full Spectrum CBD Oil is THC, the psychoactive compound found in 'cannabis oil'. That means you cannot get high or stoned from CBD Oil; or from CBD tablets and capsules, for that matter.
CBD Oil, Tablets, or capsules: which is the best choice?
In this blog, we have listed the differences between CBD Oil, Tablets, and capsules. The conclusion is clear: Full Spectrum CBD Oil offers the most comprehensive and fastest effects due to its many active compounds and rapid absorption by the body. CBD Tablets or CBD Candy remains the best choice for anyone who likes to keep things practical, since you can take them anywhere and anytime with minimal hassle. You will not find capsules in our product range, however, as these have nothing substantial to add to our premium selection of hemp (oil) supplements.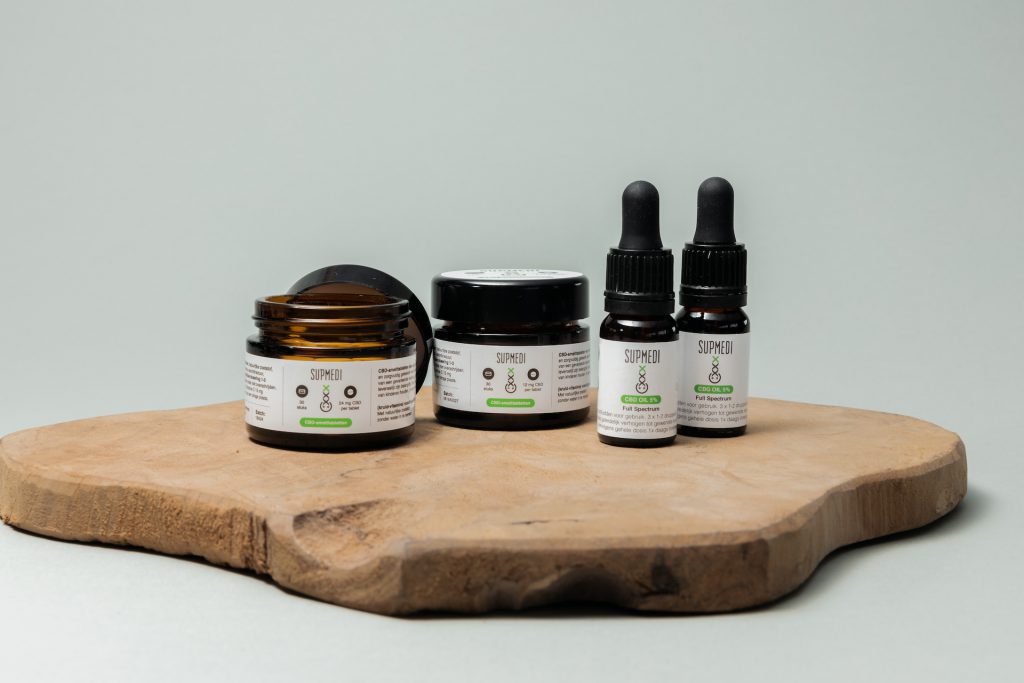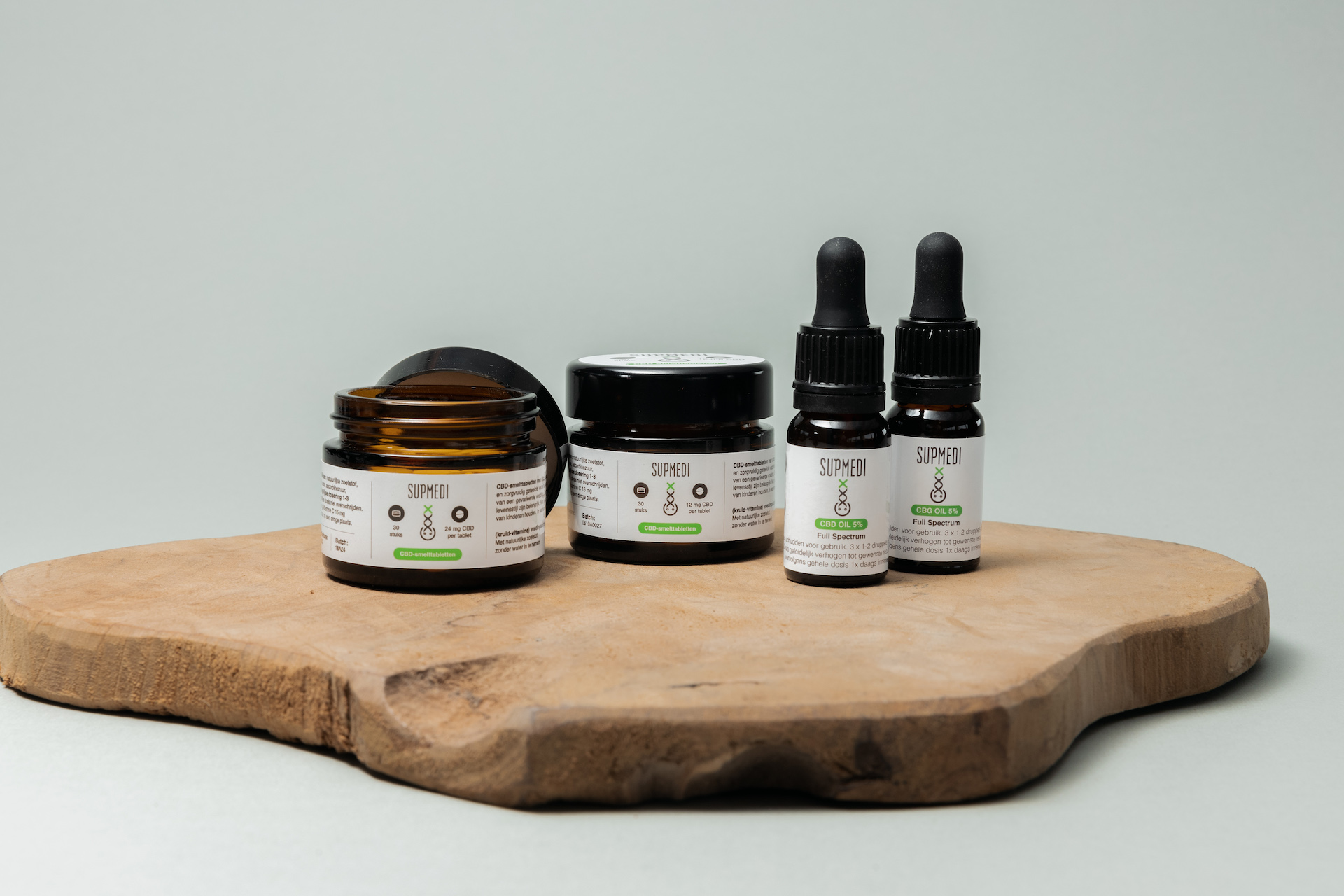 Who decides which CBD supplements are your best match?
Let's be perfectly clear: ultimately, only you get to decide which CBD supplement best matches your personal taste and lifestyle. Whether that personal match is Full Spectrum CBD Oil, or CBD Tablets or Candy instead, is entirely up to you – even if we don't sell capsules as we've explained above. On top of these, our online store also has delicious CBD nutrition supplements like CBD Chocolate or CBD Coffee for whenever you or a friend deserve a special treat. Be sure to also check our CBD Skincare range with organic argan oil and added vitamins – there's a perfect CBD product waiting for everyone here!
Whatever you decide, though, at SupMedi you can always rely on buying the very best CBD products out there. All our supplements are tested for product quality and purity at independent laboratories. That's why you can depend on ordering the finest natural hemp oil supplements for a body and mind in perfect balance!