4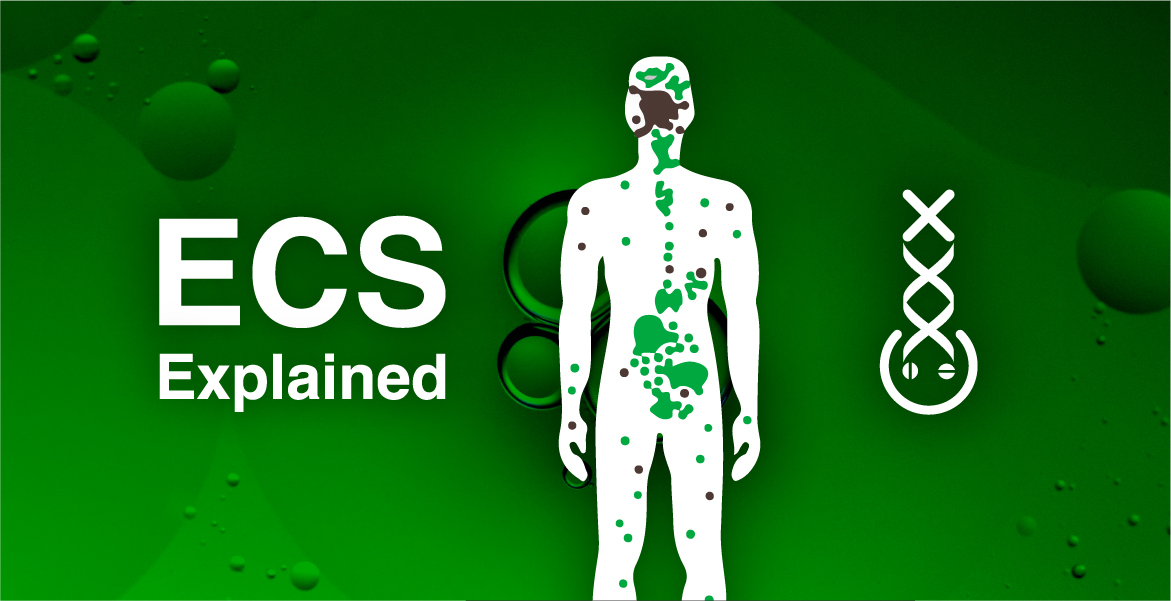 How CBD And Your Endocannabinoid System Cooperate
3 June 2021
Anyone using CBD, can notice its positive effect on the body and mind, but not many people know how exactly the endocannabinoid system (ECS) works. In fact, we still don't know everything about CBD and what its effects on the ECS are. But it's a fascinating remedy, which can help with anxiety, stress, balancing hormone levels and much more.
The Mighty Useful Hemp Plant
The hemp plant has been used by humans for centuries: we make rope from the fibers, oil from seeds, we can make straw from it and use the woody parts to build. Recently, we succeeded to extract CBD from the hemp plant and this compound has become very poplar. And that is no surprise, because it has some very special properties.
What it is, exactly, that CBD does in the body, is not yet completely understood. A lot of research is being done to learn more about this mystery. What we do know, is that it works together with the ECS, the endocannabinoid system.
What Is The Endocannabinoid System?
The human body is like a small factory, where multiple systems work together to keep you fit and healthy. You have, for example, a nervous system, an endocrine system, an immune system, and an endocannabinoid system as well. When all these systems function like they should, you feel good and you're healthy.
Although not many people have heard about the endocannabinoid system, it plays a crucial part in the body. They only discovered it in the 90's. The ECS is important to keep all other systems in balance, it makes sure that they keep doing what they should be doing. Scientists discovered that there are endocannabinoid receptors all through the body. They are situated in, among others, the brain, the skin, bones, immune system, the liver, in muscles, blood vessels and in the guts. In fact, the ECS is a system that affects almost every part of the body.
The ECS has a regulating function. In that way, it's responsible for making sure a large number of processes run smoothly. For example:
Emotions
Memory
The immune system
Metabolism
Feeling pain
Appetite
Sleep-wake rhythm
The ECS produces endocannabinoids, these are compounds that influence the ECS' receptors. Endo means that the compound is from within the body itself. Two endocannabinoids, produced by the body, are anandamide and 2-AG (arachidonoylglycerol).
But the hemp plant contains cannabinoids as wel. These are called phytocannabinoids, because they're of vegetable origin. But although they're derived from a plant, the body doesn't see them as an alien compound. That's why cannabidiol (CBD) is capable of working together with our ECS so well.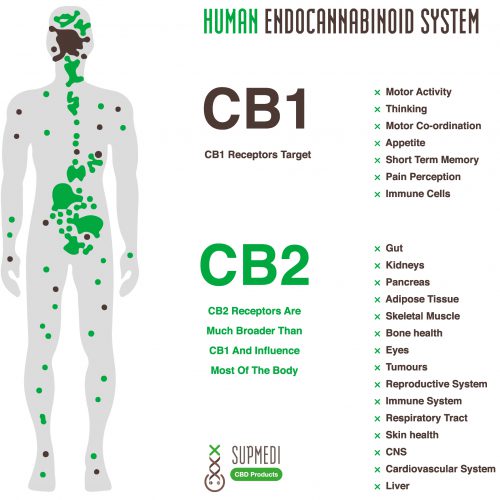 How CBD Works Together With The Endocannabinoid System
Researchers have studied the hemp plant extensively and found around 120 different cannabinoids. Not one of those is as special as CBD.
The ECS functions through receptors. Every cell in your body is enveloped by a cell wall, which is covered in receptors. Receptors are built of proteins, that only respond to a certain molecule. Only that one molecule can bind with the receptor and incite it to come into action. Or it ensures that the receptor won't be able to react to stimuli. These receptors react to cannabinoids and will also do this to CBD.
Like a small key, CBD fits into the right lock. There are two kinds of receptors, CB1 and CB2, although research shows that there may me even more, that play a part within the ECS. THC for instance (the compound from the hemp plant that gets you high), binds to CB1 receptors.
The receptors in the ECS system can be stimulated or blocked. Some cannabinoids function as agonists, others as antagonists. Compounds that have an agonistic effect, activate a cell, after which follows a reaction. That happens for example with THC, when it binds to a CB1 receptor.
Antagonists bind to a receptor, and see to it that it can't react, so they block it. CBD has an antagonistic effect on CB1 receptors, where THC has a stimulating effect. That is the reason why you don't get high from CBD. But the effect of CBD on the CB1 receptor is broader than that. It seems to inhibit your appetite, which can be useful when you want to loose weight.
CBD's Effect On Serotonin Receptors
One of the most potent ways CBD can influence your physical and emotional well being, is because it can bind to serotonin receptors. Serotonin is the compound people also call the "happy hormone". If your body doesn't produce enough serotonin, you may suffer from sleeping disorders or depression. By taking CBD you can bring back balance in the system. Its agonistic effects on the receptor will help the body produce more serotonin. This way, you may feel better in your own skin.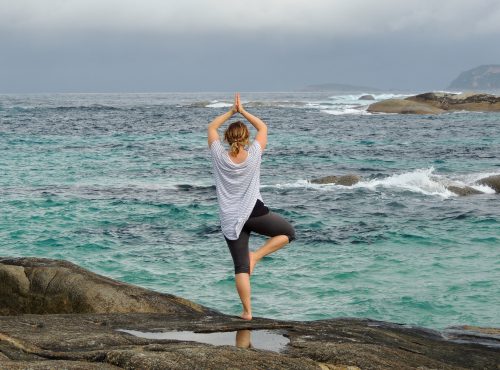 Restoring Balance To Your Endocannabinoid System
Because of this beautiful teamwork of CBD and the endocannabinoid system, you can tackle a number of health complaints. For example:
Sleeping troubles
PMS
Anxiety
Stress related symptoms
Moodiness
Digestive complaints
Chronic pain
High blood pressure
Menopause symptoms
CBD is a natural remedy, that can help bring back balance in your body. If you would like to give it a try, you could start taking SupMedi's CBD tablets or CBD oil.