4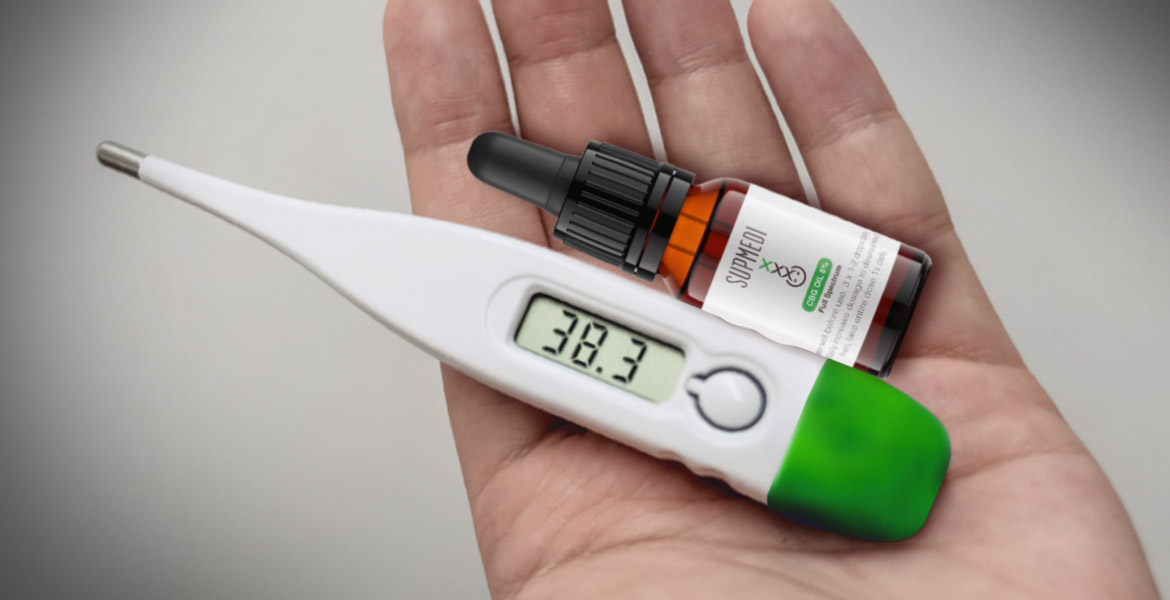 CBD Oil and fever
24 August 2022
Having a fever can make anyone feel very sick. Children are particularly prone to high-temperature fevers. A fever is usually caused by inflammation, and research has demonstrated the anti-inflammatory potential of CBD Oil. But are all fevers due to infection, and can CBD Oil help bring any fever down? Find out in this blog!
What is a fever, exactly?
The human body works best at a constant average operating temperature of 37 degrees Celsius. As soon as this ideal temperature rises above 38 degrees, we call it a fever. Fevers occur when the body reacts to viral or bacterial infections, but they can also be a symptom of infections.
In fact, a fever is a very useful body response, as elevated temperatures make it harder for bacteria and viruses to function. Your body knows when the infection is under control, and at that point, you will start to cool back down as the fever subsides. This explains why medication is usually not necessary for treating fevers. But if a fever persists or gets very hot, you may be at risk and you should consult a doctor nonetheless.
The temperature of a fever is hardly indicative of how serious the underlying infection is. High fever is most common among young children under five. This is due to their immature immune system. Simply stated, a child's body still needs to learn how to recognise all the bacteria and viruses it encounters. Still, anyone can be affected by fever, and that is why it would be good to know if CBD Oil can help.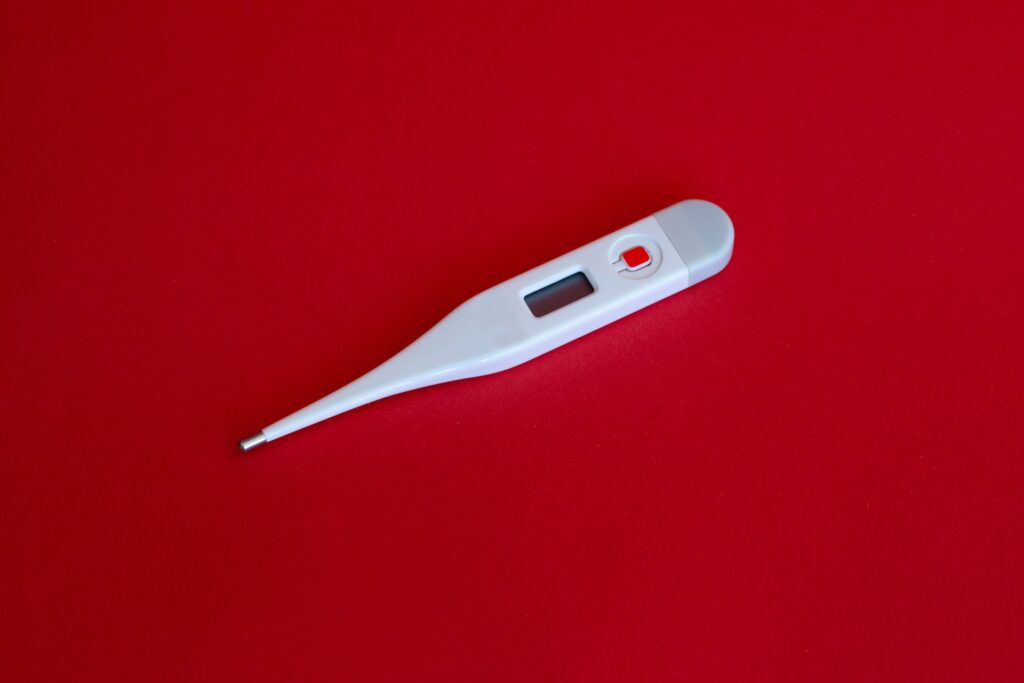 What causes fever?
Fevers are caused by infections or inflammation. The main distinction between these two causes is their origin: infection usually follows after bacteria or viruses enter the body, whereas inflammation is the body's response to tissue damage.
Infection
Infection is always triggered by foreign organisms entering the body. These can be bacteria, viruses, fungi, or parasites penetrating the body's defences. They can enter by breathing them in through our nose or mouth, but food is another carrier, and cuts and open wounds are also common points of entry. The body responds by raising its temperature, triggering fever and slowing down the growth of the foreign organism involved.
Inflammation
Inflammation occurs when the body attempts to defend itself from harm. If certain types of body tissue are damaged (such as the skin, muscles, joints, and internal organs) fever is a way for the body to remove harmful substances and limit resulting damage. Inflammation can result from infections such as pneumonia, as well as from objects such as splinters puncturing the skin. Internal injuries can also cause inflammation, as happens with ruptured muscles, for instance.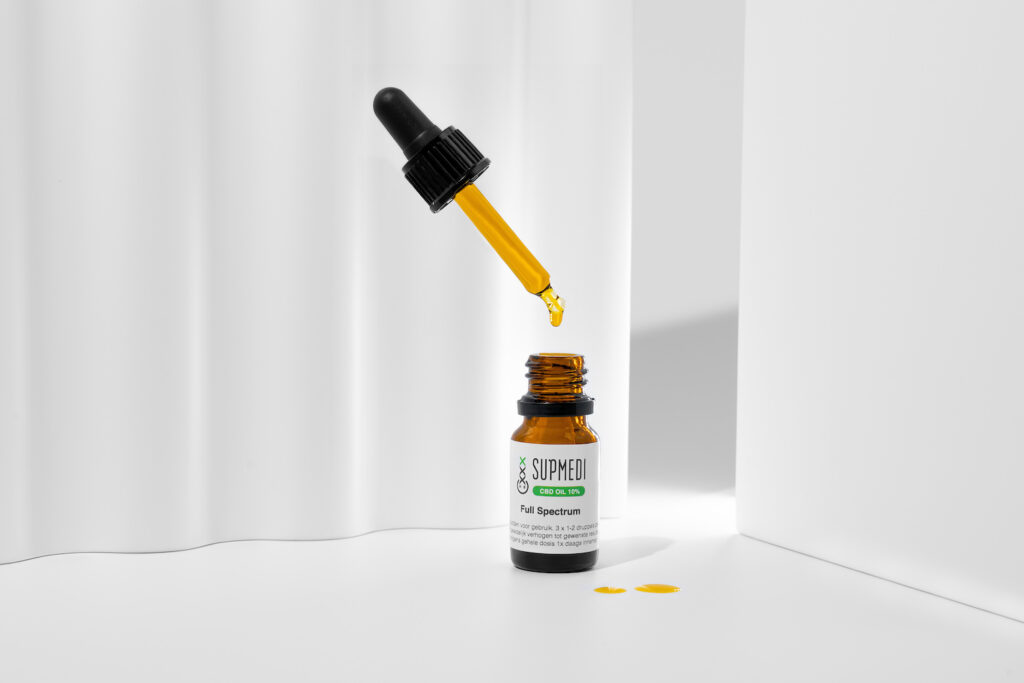 Does CBD Oil help against fever?
Research has broadly demonstrated CBD Oil's positive effects on fevers caused by inflammation throughout the body. If we consider rheumatoid fever as an example, which is often triggered by inflammation, CBD Oil can be a very good option for reducing the impact of the inflammation.
Multiple studies have shown that CBD Oil has strong natural anti-inflammatory properties. CBD interacts with the endocannabinoid system (ECS) charged with regulating all body processes and maintaining homeostasis (balance). The ECS comprises a complex system of cannabinoid receptors located all throughout the body. The CB2 type receptors of the ECS are chiefly found in the immune system, which further increases the plausibility of its connectedness to inflammation, infection, and fever.
By working with our body's ECS, CBD Oil can boost and reinforce our immune system. This can be helpful in reducing inflammation and bringing down any resulting fever. It seems, then, as if CBD Oil does not affect fever directly, although it can help support your body in tackling the underlying problem that caused the fever. Suppose a virus has caused your fever, then CBD Oil can help your body fight the virus. At the same time, it encourages your immune system to promote faster recovery and fever reduction.
CBD Oil to improve your mood
Another great added benefit is CBD Oil's potential to help out in other ways when you have a fever. Research has shown that CBD can help improve your mood, promote relaxation, reduce stress, and help you sleep. These are all very useful prospects when you are lying in bed trying to get better as fast as you can!
Full spectrum oil
CBD is a powerful cannabinoid, but it appears to work best against fever when combined with other cannabinoids and compounds found in hemp plants. Our Full Spectrum CBD Oil contains more than just CBD. This special oil supplement carries a multitude of cannabinoids as well as other organic substances. Some of these have their own anti-inflammatory properties just like CBD (cannabidiol). Examples include CBG (cannabigerol) and CBN (cannabinol). Terpenes have their own special part to play, too. Best of all, these compounds can work together in a phenomenon called the entourage effect. The one cannabinoid you won't find in our Full Spectrum CBD Oil in noticeable quantities is THC, so you cannot get high from it.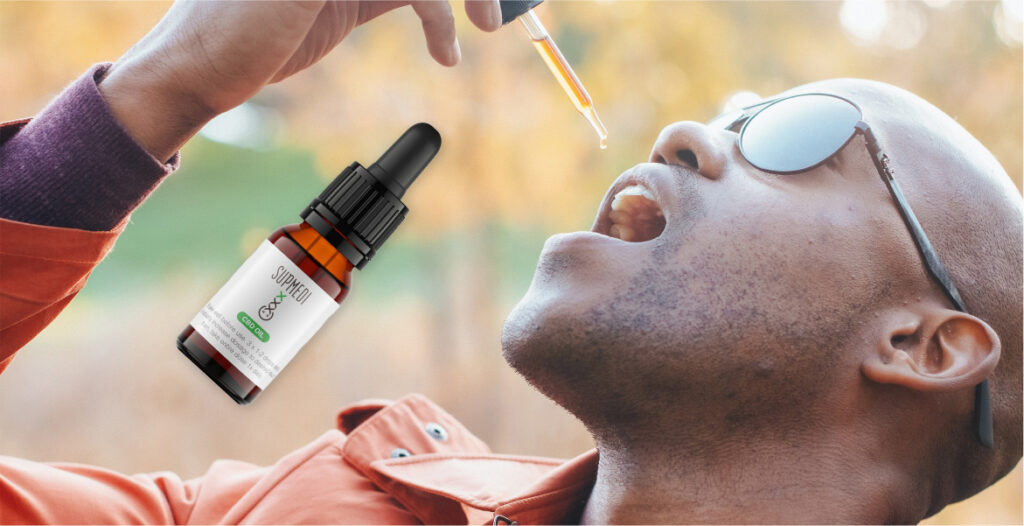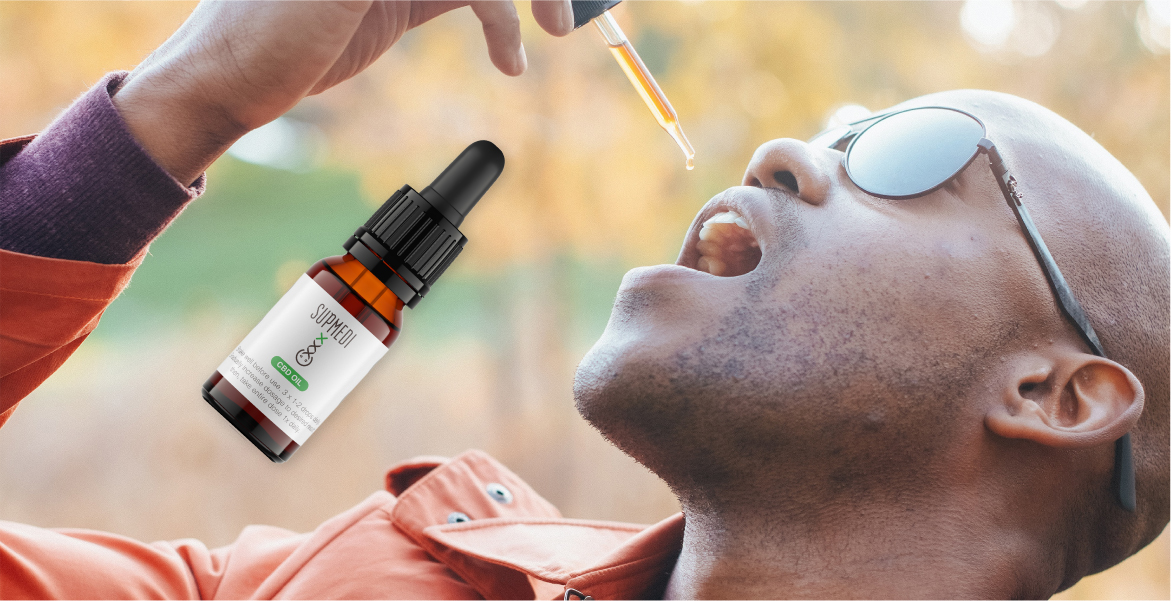 Does CBD Oil produce side-effects?
Regular fever medication, anti-inflammatories, or antibiotics can have some unpleasant side-effects. Fortunately, CBD Oil lacks serious side-effects. The WHO (World Health Organization) officially declared that CBD is not addictive, and safe to use even over extended periods. Nonetheless, we are all unique individuals and different people tend to respond differently to CBD Oil. A few mild side-effects of CBD have been reported:
Dizziness;
Nausea;
Dry mouth;
Drowsiness;
Reduced appetite.
Generally speaking, these side-effects are no cause for concern. Sometimes it's simply a matter of the body adjusting to CBD, and any possible side-effects usually disappear after a few days.
CBD Oil supplements for support during fever
If you are feeling under the weather, with flu-like or fever symptoms, trying our Full Spectrum CBD Oil is definitely an option! The best way to use it is by applying it directly underneath the tongue. The mucous membranes in the mouth quickly absorb CBD into the bloodstream for fast effects. Always shake the bottle well before use. Place the desired number of CBD Oil drops under your tongue using the pipette that comes with the bottle and wait for about 60 seconds before swallowing.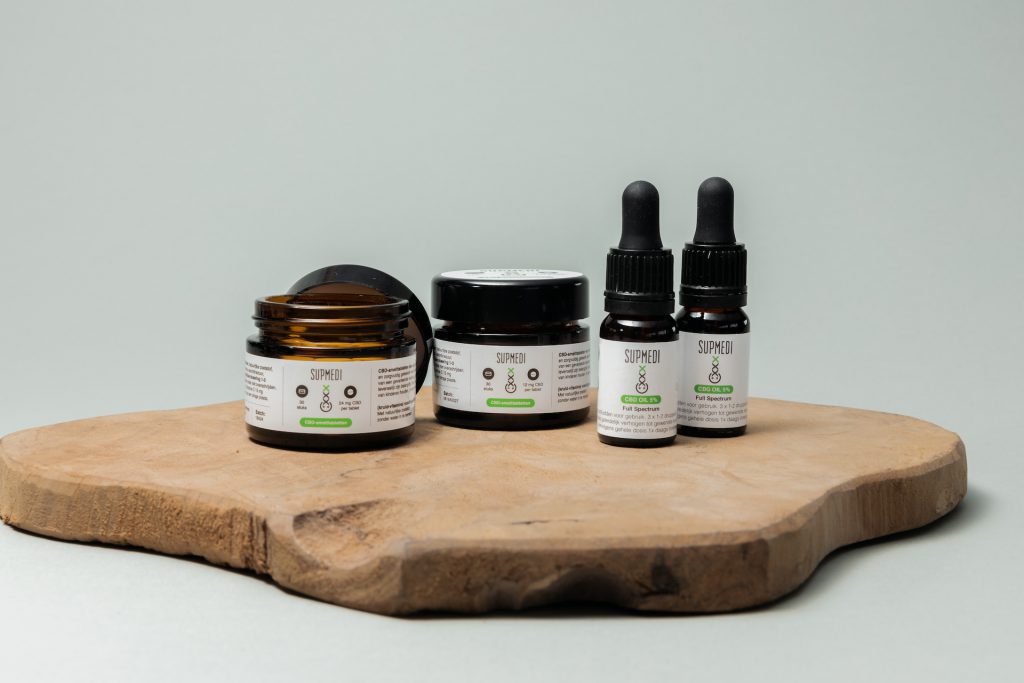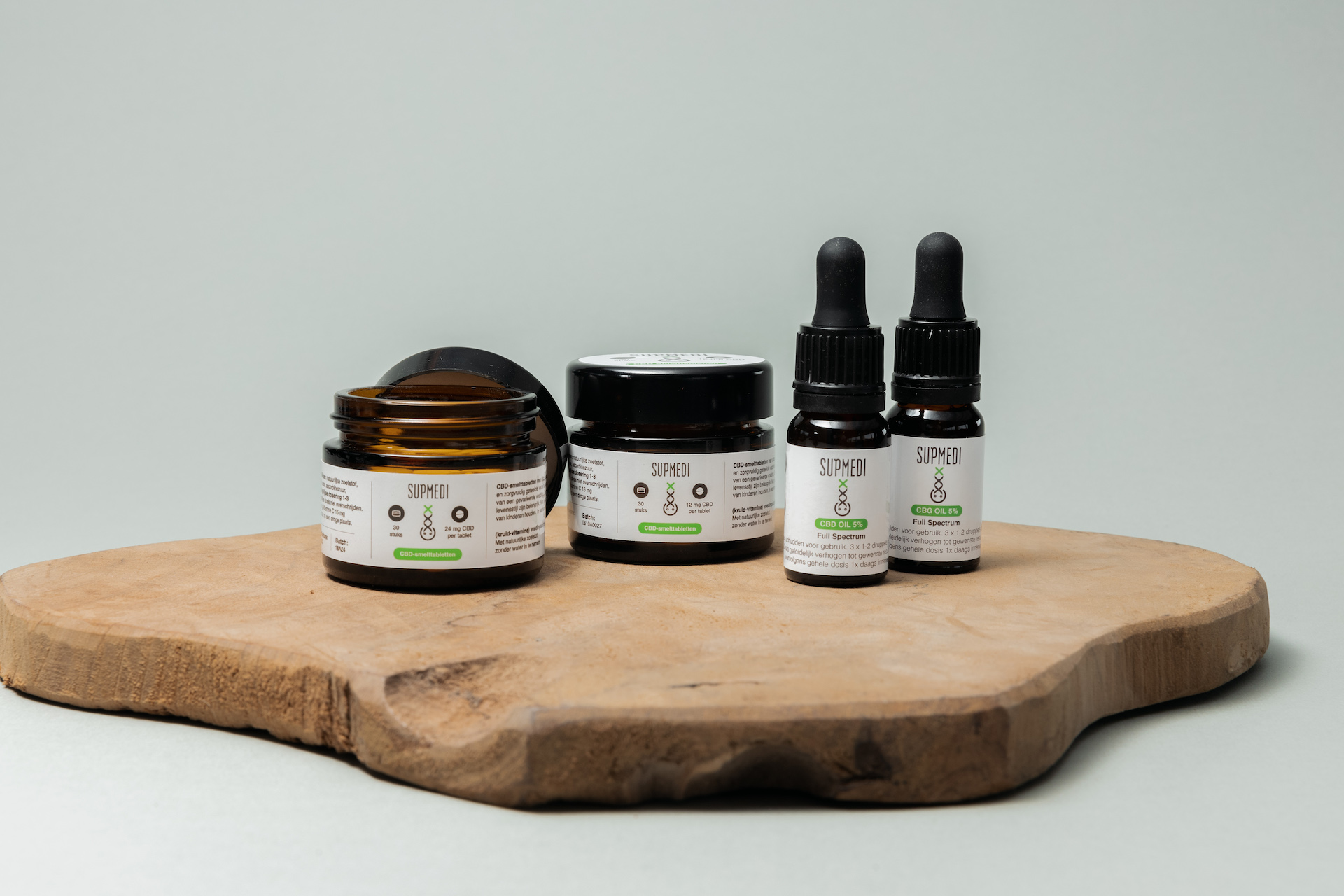 Children easily get a fever. Since our CBD supplements do not make you high and only come with few (if any) and mild side-effects, they are especially suited for children aged 4 or above. Although you can give CBD Oil to children with a fever, we strongly recommend trying our CBD Candy Tablets. These are real treats with sweet strawberry flavour that can help children and adults deal with fever and sleep well as an added bonus.
Also, make sure to have your own CBD Skincare products close at hand. Any inflammation from minor cuts or splinters can be treated with CBD Cream or Salve with argan oil. Simply apply the product to the affected area and let the CBD work its natural magic!