4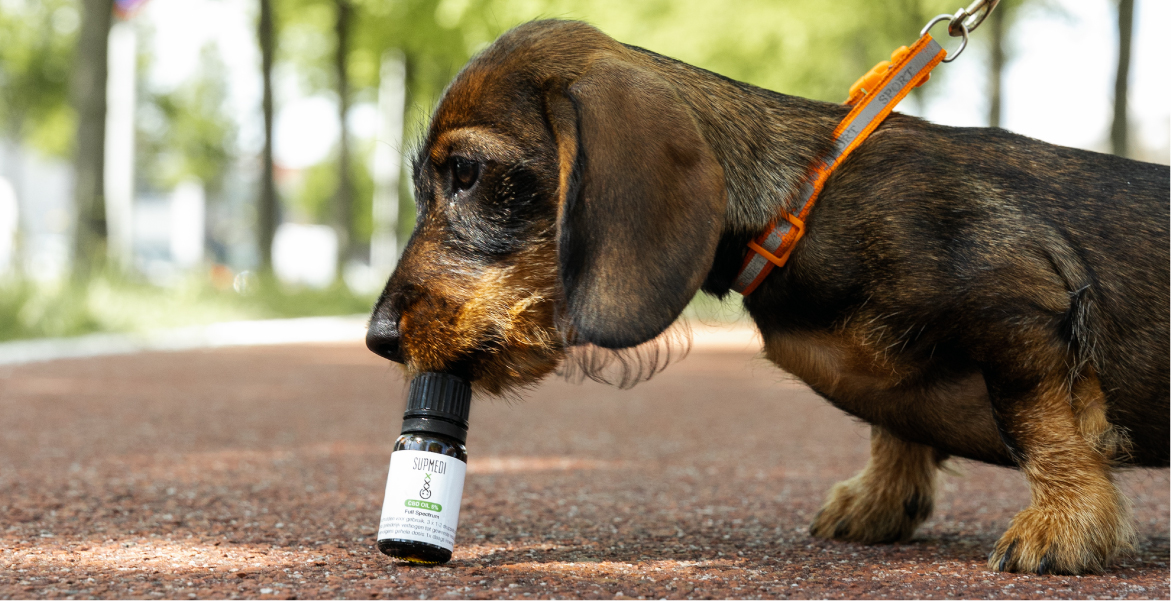 CBD Oil for dogs
15 February 2022
Does your dog go wherever you go? Do you enjoy long walks together, at home and on holidays? Wonderful! After all, life is better when you spend it together. Obviously, you'll want the best treatment for your dog whenever something's wrong. Veterinary drugs may help treat pain, anxiety, or disease, but these are often expensive, may have unwanted side-effects, or prove less effective than you hoped. CBD Oil is also suited for dogs, and can provide natural relief for many symptoms and problems. This blog explores the options and tells you what to look out for.
What is CBD Oil and how does it work for dogs?
Sadie, a six-year-old labradoodle, could hardly walk by the time she was diagnosed with arthritis. The pain forced her owner to carry her outside whenever she had to go, and to help her eat and drink. Regular pain medication simply didn't work. Then, a friend suggested she should try CBD Oil for her dog. Three days later, Sadie was back on her feet.
Aron, a greyhound, also benefited from CBD Oil. He was so scared of thunder that any storm sent him bouncing off the walls of his crate. Tranquillisers only changed the poor dog from 100% to 50% nervous wreck. However, a few drops of CBD Oil managed to calm Aron down enough to weather any storm with the confidence to overcome his fear.
Funky, a labrador guide dog, suffered so much pain following a hernia that her owner feared she would have to go without her aid. Luckily, CBD Oil proved to bring enough relief for this highly trained canine to grant them years of continued service and friendship. The owners of dogs they would meet on their daily rounds noticed improvement on all fronts right away, further boosting the confidence of Funky as well as her owner.
So what properties of CBD can explain its huge canine potential? CBD, or cannabidiol, is a cannabinoid: a vegetal compound that can have the same effects as the endocannabinoids naturally produced by the human and canine body. Cannabinoid receptors are found all throughout the body as part of the endocannabinoid system (ECS). They are regulators signalling a multitude of physiological processes to either speed up or slow down. This enables cannabinoids help restore the body's internal balance when it is disrupted. This is why humans, dogs, and just about any other animal can benefit from the effects of CBD.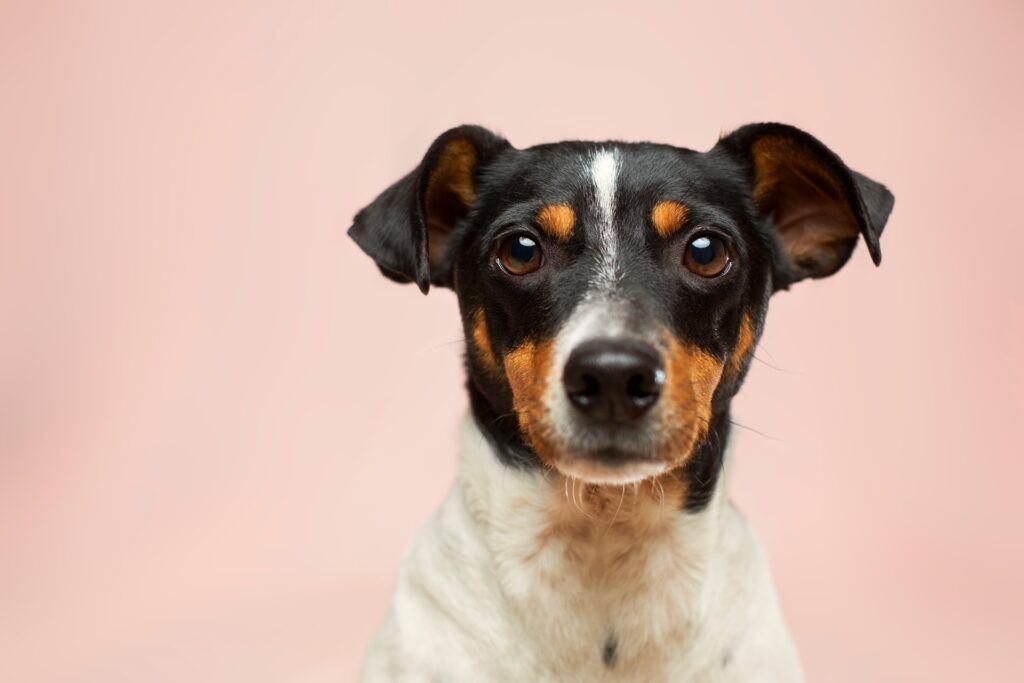 For which conditions can CBD Oil help dogs?
Even though research into the effects of CBD for dogs lags behind studies into the effects for humans, we see plenty of positive first-hand experiences shared by dog owners. So far, most clinical trials involved either human subjects or other animals, although some did focus on dogs specifically. These studies did indicate the potential of this cannabinoid for inflammation, pain, itches, and anxiety. It is quite likely that CBD Oil proves equally effective for dogs. For now, however, the experiences of satisfied dogs and owners are the best evidence to go by.
CBD Oil for dog anxiety and restlessness
Anxiety and restlessness are some of the main reasons why dog owners choose CBD. Loud noises, car travel, and separation anxiety can cause severe distress in dogs. One study conducted by the University of Western Australia showed that dogs displaying aggressive behaviour became less aggressive towards humans after 15 days of treatment with CBD.
Research by the University of Kentucky investigated the calming effects of CBD on dogs. 16 dogs received either CBD, a tranquilliser, a placebo, or a CBD/tranquilliser mixture. The researchers then measured physical responses to loud noises (simulated fireworks). Even though the results failed to demonstrate the effectiveness of CBD, we need to consider that it was administered 4 to 6 hours prior to the test. This waiting period may have been too long to assess the effectiveness of the cannabinoid.
Good to know for concerned owners: a 2019 US study demonstrated that CBD Oil is safe for use by dogs. These findings correspond with a statement by World Health Organisation WHO assuring that CBD is safe for human consumption. We can conclude that giving CBD Oil to dogs is a responsible choice, even as we await the outcomes of further research.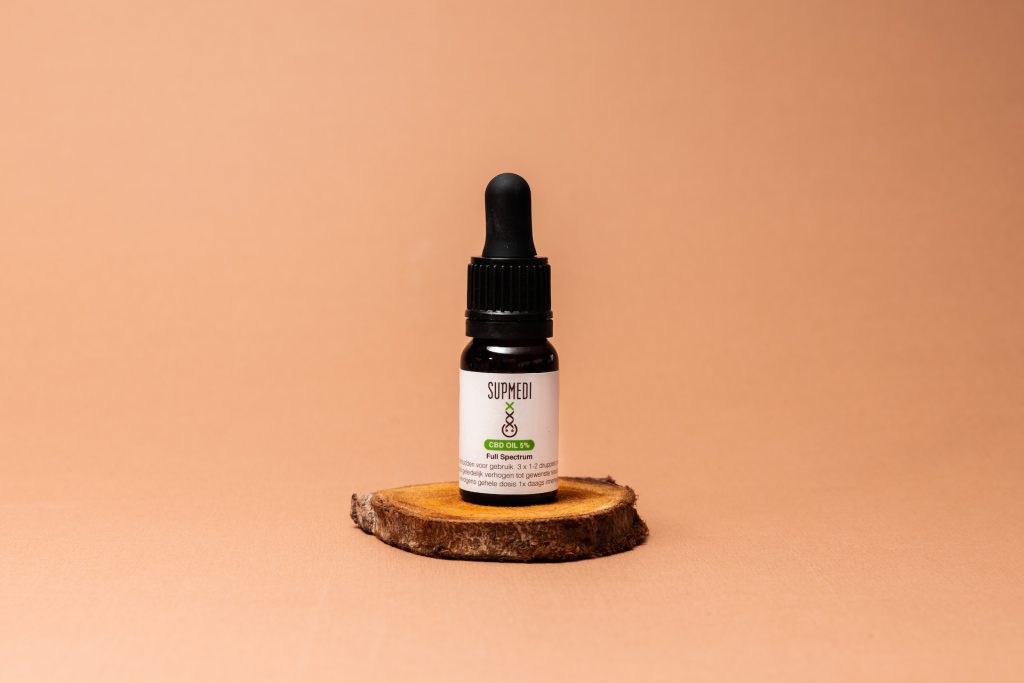 The potential of CBD for canine arthritis
Arthritis is another area where CBD shows high potential. The Cornell University of Veterinary Medicine set up a study into the effects of CBD Oil on dogs, Four dogs were given 4.4mg/lbs of CBD twice a day for one month. All dogs showed significant improvement in pain relief and quality of living. The research leader mentioned that prior to the study, several dogs were in such bad shape that their owners had considered euthanasia. Only a few days into the study, the dogs were up and running, and even managed to climb stairs again.
CBD for itches
As far as we know, two studies have been set up to investigate CBD's effectiveness for itches, which both demonstrated significant reduction of symptoms. One Australian study conducted by the CannPal company showed that one of their CBD products managed to reduce itching, counter inflammation, and help skin recovery. Even though this was a double blind, placebo-controlled study, however, we have to take into account that it was run by an enterprise with financial interests in its outcome. Nonetheless, the results show promising potential for peer reviews to confirm.
Epileptic seizures
Human trials have demonstrated that CBD can have highly positive effects on epilepsy symptoms. Several studies indicate the same may hold true for dogs. One study by Colorado State University involved dogs receiving CBD Oil for 12 weeks. Compared to the placebo control group, these dogs showed a 33% decrease in seizure frequency. Not all dogs displayed these benefits, however. Subsequently, the same team set up a new study involving increased CBD dosages given to 26 dogs suffering from idiopathic epilepsy. A total of 16 dogs completed the full 12 weeks of this double blind study, receiving either CBD or a placebo in addition to their regular epilepsy medication. After 12 weeks, the dogs receiving CBD showed an astounding 89% reduction in epileptic seizures.
CBD Oil for happy dogs
Canine happiness is another final important reason why owners give CBD Oil to their dogs. Pets can become stressed and even depressed just like humans, and CBD may help lift the mood of our furry friends by natural means. Of course, pain relief and anxiety reduction go a long way towards achieving this goal, but even if other factors affect your dog's happiness, natural cannabidiol supplements are worth a try if you think your pet's wellbeing is at stake.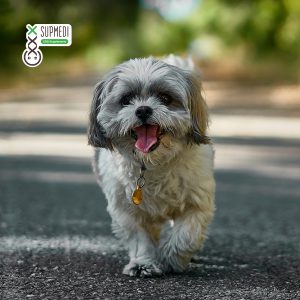 How do I give CBD Oil to my dog?
Are you considering giving CBD to your dog for pain, anxiety, or other conditions? Rest assured that CBD Oil is a natural supplement that is safe for prolonged use by dogs. CBD Oil can have a distinctive taste, so the best way of administering it is usually by mixing drops of oil with regular dog chunks or a tasty snack. This will allow most dogs to take it in without any problems. In any case, dogs can never get 'high' or 'stoned' from CBD, in contrast to regular cannabis or marijuana oil. CBD Oil is based on hemp extracts that do not contain effective concentrations of THC, the psychoactive component in cannabis. Be cautious about combining CBD Oil with veterinary medication for dogs, however. CBD can influence the effectiveness of certain drugs. In such cases, it is wise to consult your veterinarian first. We advise using our 5% Full Spectrum CBD Oil for dogs, starting with 1 drop once a day for small dogs, and 1 drop twice a day for larger dogs.