2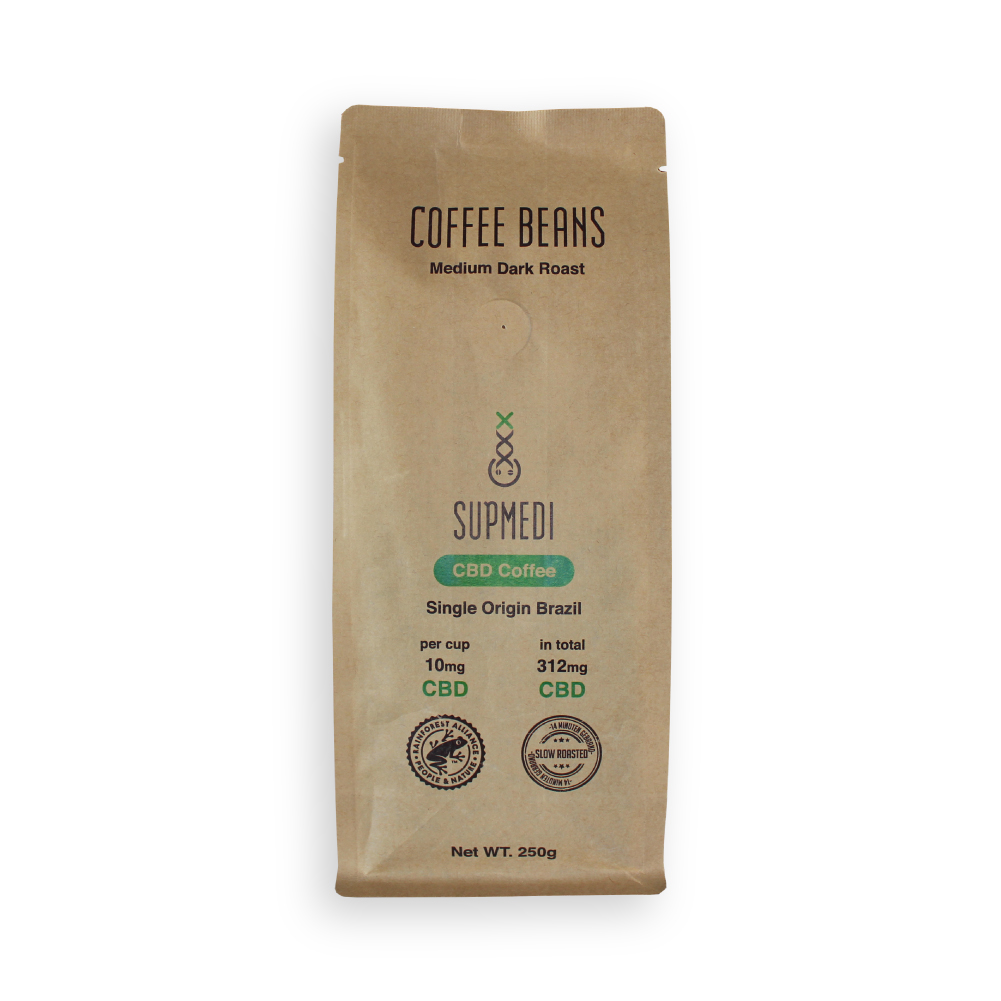 CBD Coffee: Cannabidiol And Caffeine Join Forces
10 August 2020
Due to the popularity of CBD, more and more products are offered to which this special substance has been added. Following the success of our CBD Oil, Tablets, and Gummies, we have developed two delicious CBD Coffee varieties. CBD extracts are infused directly into the coffee beans after roasting. This allows you to enjoy a cup of excellent coffee while benefiting from caffeine and cannabidiol at the same time. But what happens in our body when we combine these two substances? Are coffee and CBD such a good combination? This blog reveals some unexpected added benefits of what CBD Coffee can do for you.
CBD Coffee: Caffeine And Cannabidiol
Combining coffee and CBD means pairing two active natural compounds: caffeine and cannabidiol. Both these substances are derive from plants (coffee and hemp plants, respectively). Both plants have been used by human societies for centuries, due to their useful properties and effects on our body chemistry. Caffeine is associated with keeping us focussed and awake. Cannabidiol was discovered much later, but research continues to demonstrate new beneficial effects of this humble hemp cannabinoid. Today, people all over the world are discovering how CBD supplements have the potential to help them tackle pain, inflammation, addiction, anxiety and much more besides. So what happens when we combine all these natural possibilities with the effects of caffeine? Well, CBD Coffee is here to let us try for ourselves!
The Effects Of Caffeine
As we know, caffeine ensures that it's easier to stay awake. When we get tired, certain areas of the brain produce more of the substance adenosine. This substance activates certain cells in our brain that make us feel tired. These cells send signals that convince us we are getting sleepy. When we drink coffee, caffeine enters the bloodstream and blocks adenosine's ability to activate these signal cells. Basically, the caffeine blocks our 'urge to sleep'. In essence, this is how coffee suppresses tiredness.
The Effects Of CBD
CBD has many functions in our body. Many of these functions are related to the brain. One of the effects of CBD in our brain is reducing the reuptake of adenosine by nerve cells. Reuptake is the process by which active substances are withdrawn from the bloodstream, back into the cells that produced them. Logically, when adenosine reuptake is blocked, the substance remains effective in the brain for longer. As a result, many people experience a calming effect after using CBD.
Furthermore, adenosine also seems to be involved in the suppression of inflammations and may protect against heart attacks. This illustrates how CBD serves more than one purpose in our body; it affects various mechanisms including our endocannabinoid system, which in turn regulates our physiological balance. Adenosine reuptake inhibition is just one of the many roles that cannabidiol plays in our cell biology.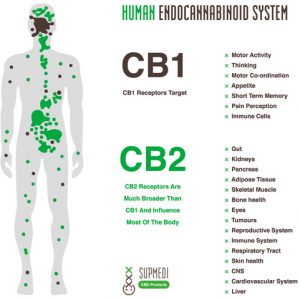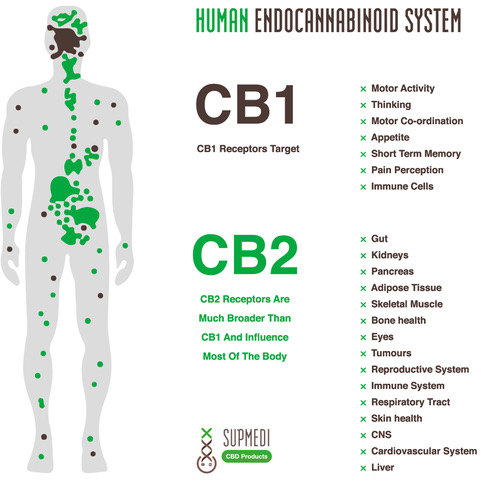 Combining Coffee And CBD: Caffeine Synergy?
In light of the above, it may seem strange to combine caffeine and cannabidiol. After all, if caffeine keeps you awake and CBD calms you down, don't they just cancel each other out? Well, in fact, the truth is a little more complicated. It all seems to depend on your dosage: how much CBD and how much caffeine you use makes a big difference. Because caffeine blocks the places where adenosine has it's effects, some of the benefits of CBD will get lost. One of these benefits is the calming effect that can improve your sleep.
Added Benefits
It appears that if you're interested in using CBD against insomnia, CBD Coffee is not you ideal supplement. That makes intuitive sense; after all, improving sleep by drinking coffee simply doesn't sound like a smart solution. However, for all those who use CBD for one of its many other potential benefits, caffeine and CBD can be a great combination. The cannabidiol in your CBD Coffee can have positive effects on other systems in our body, on which caffeine doesn't have an effect.
That is very good news for all coffee lovers. Now, you can drink your favourite beverage without getting jumpy and jittery due to too much caffeine: CBD can counter these effects. To name but a few examples, CBD Coffee can be very useful for those struggling with:
Inflammatory disease including arthritis;
And many other applications.
CBD Yes; Coffee And Caffeine, No
Symptoms and conditions for which CBD Coffee is less suited than out other supplements such as CBD Oil or CBD Gummies include:
We have to be a bit conservative here, because so far, no solid studies have been conducted on the combined effects of caffeine and CBD. Regardless, thousands of people are starting their day doing just that: enjoying a good cup of freshly brewed CBD coffee to get going. Barring the exceptions listed above, experts believe that coffee and CBD are a great combination, as long as they are used in moderate doses.
Although calling the adenosine mechanism a form of CBD and caffeine synergy might be going a bit too far, it is still interesting to see how they can combine their effects. The combined benefits of coffee and cannabidiol can be explained by the complexity of the nerve cells interacting to make our brain and body work as a balanced whole.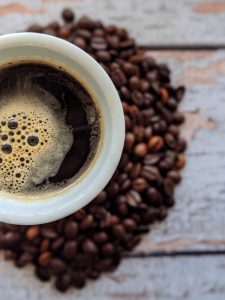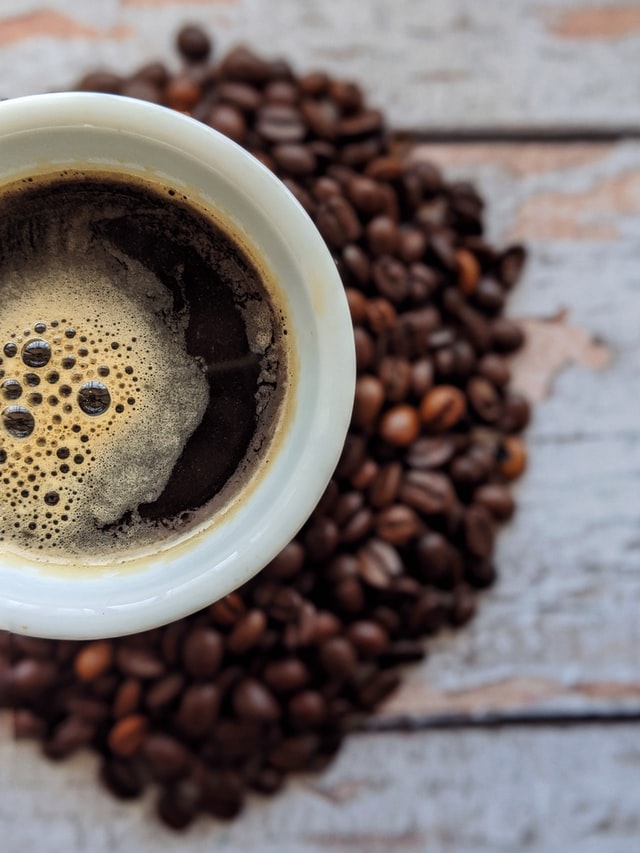 CBD Coffee: All Good Things In Moderation
It appears that drinking one to a few daily cups of CBD Coffee containing between 5 and 10mg of CBD per cup hits the sweet spot. The calming effect of CBD seems to reduce the jumpy, jittery feeling that (too much) caffeine produces. That means you can enjoy the increased focus caused by your coffee while cannabidiol calms the nerves just enough to take the edge off. Note that that does not mean you should double your coffee intake when you drink CBD Coffee, though. Too much coffee still isn't recommended, and will still give you the jitters.
In addition, if you use CBD to help you sleep at night, drinking coffee in the evening is never a good idea; that includes CBD Coffee, as the caffeine could easily cancel out the CBD effect. Having said that, however, you can safely enjoy the great taste of our Peru and Brazil CBD Coffee varieties every morning and throughout the day.
In fact, why don't you try our CBD-infused, single origin, medium dark slow-roasted coffee beans for yourself? Enjoy gourmet quality coffee, produced sustainably and responsibly under Rainforest Alliance certification, with all the added benefits of cannabidiol. We bet you'll agree that getting out of bed was never easier!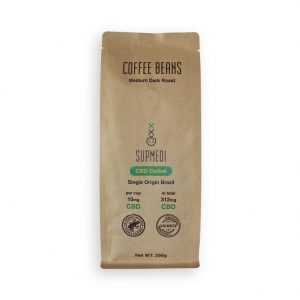 CBD Coffee Brazil
312 mg CBD