2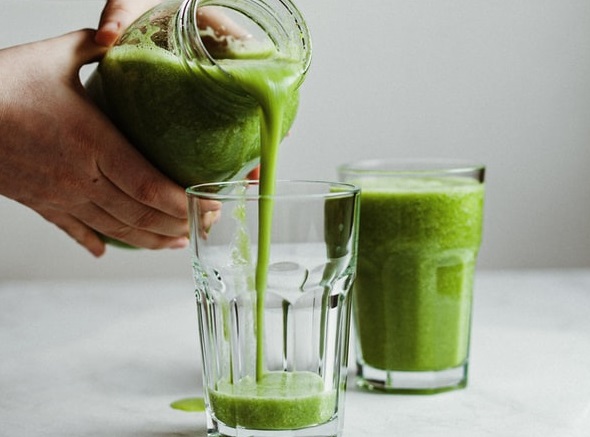 Healthy Lifestyle CBD Recipes: CBD Smoothies
21 January 2021
CBD smoothies are a great fit for any healthy lifestyle. Depending on your own preferences, smoothies can pack all sorts of vegetables, fruits, superfoods, nuts, seeds, dairy, and more. They're a source of endless variation; you can discover new creations every day! Best of all, they're super-easy to make and great for carrying with you wherever you go. But did you know that a smoothie is also the perfect healthy drink to mix with CBD? Basically, CBD is a superfood in itself, taking your wholesome smoothie to a whole new level of, well… wholesomeness! This blog is meant to get you started with three lovely CBD smoothie recipes served as an inspiration – feel free to add your own creations! CBD Oil goes with smoothies of any type and flavour, so just add CBD and enjoy your fresh glass of daily support!
What Makes Smoothies So Healthy
Smoothies are the ideal choice for breakfast or lunch, and they're super easy to make at home. Simply chop up some fruit and vegetables, add some nuts or seeds, some water, dairy (or dairy alternatives) and finish off with a splash of CBD Oil. Put it all in a blender and serve a healthy dose of great taste in a matter of seconds. Better yet: make a little extra and put it in the fridge. You just can't beat a personal supply of chilled CBD smoothies waiting for you when you finish your morning run!
The basic ingredients for smoothies are fruits and veggies, guaranteeing a steady supply of healthy vitamins, minerals, antioxidants and fibre. Of course, that's great news for your health; these nutrients support digestion while reducing risks of cardiac disease, osteoporosis, and more besides. They even help prevent inflammation, further boosting CBD's own potential in this area.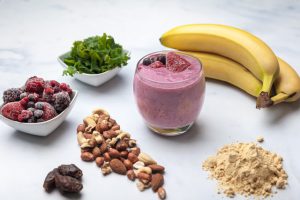 Your Daily Dose Of Health; Nice, Smooth & Easy
An adult person ought to eat (or drink!) at least 400 grams of fruits and vegetables every day. Even though that is a bare minimum, most people fail to meet the mark most days. Smoothies provide a quick, easy, and tasty way to ramp up your daily intake of fruits and veggies. In fact, you can even 'hide' products in them that don't taste so great, because the flavour will just disappear in the mix you create. That's a fabulous way to make sure you get your daily dose of vitamins!
What's more, drinking smoothies is also a great way to make sure you get enough fibre. These help keep your digestive system in shape, which in turn prevents constipation, promotes healthy bowel movements and cultivates beneficial gastrointestinal bacteria.
The final touch of adding CBD Oil to your already healthy smoothie makes for a powerful combination, able to boost your health in more than one way. CBD is a natural plant cannabinoid that can have anti-inflammatory, analgesic, and soothing effects. It's an all-natural product that goes with any healthy diet, including vegetarian, vegan, and halal lifestyles.
Don't Add Too Much Sugar To Your Smoothie
In general, adding fruit to your smoothie sweetens up the mix; vegetables often bring a touch of bitterness instead. Still, you should be careful not to add too much fruity sweetness to your smoothies. For all their healthy contributions, most kinds of fruit contain lots of sugars. Even if these are called fruit sugars, they're every bit as bad for you as any regular type of sugar. That's why you should try to strike a healthy balance between fruits and vegetables in your CBD smoothie.
One way to tackle that balance is trying to emphasize vegetables. There are more different veggie flavours to try than you might think at first. The more fruit you add, the more sugar you get, and those can cause blood sugar fluctuations. Try to aim for a 70% veg, 30% fruit ratio and you should be good.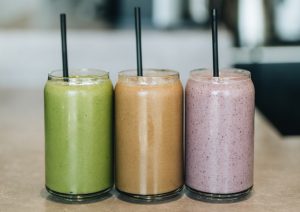 3 Healthy CBD Smoothies
You can make smoothies at home using a food processor or a blender. Just peel your fruits and vegetables (if necessary) and dice them until they fit in the device you're using. Put the hardest ingredients in first, followed by the softer and liquid ingredients. If your smoothie is too thick to your liking, simply add water, dairy, or other fluids.
Breakfast CBD Smoothie
This healthy morning sunshine bomb loaded with superfoods like chia seeds and kale gives your body a boost to last you all through the day.
Ingredients:
300 grams of kale (just the leaves);
100 grams of chopped pineapple;
1 tsp. of grated ginger;
1 date;
175 ml coconut water;
1 tsp. of lemon juice;
1 tbsp. of chia seeds;
80 grams of mango;
2-3 drops of CBD Oil in your own preferred concentration.
Preparation:
Tear up the kale leaves and put them in the bowl. Add all other ingredients and blend them to a smooth, even texture. There you go – you're all set for a whole day full of positive energy!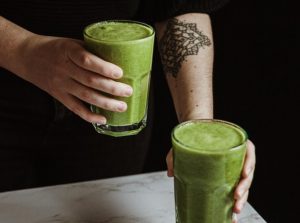 Mint & Chocolate CBD Smoothie
This CBD smoothie is an absolute must for any chocolate lover, and from now on, it's your best excuse to sneak some chocolate goodness into your healthy diet…
Ingredients:
200 ml almond milk;
1 tbsp. of protein powder;
1 tbsp. of cacao powder;
10 cashew nuts;
12 mint leaves;
150 grams of spinach;
2-3 drops of CBD Oil in your own preferred concentration.
Cacao nibs for decoration, OR;
Crumble one CBD 24/7 Chocolate Thin into the mix instead of the CBD Oil and nibs.
Preparation:
If you want, and especially if you don't have a powerful blender, you can soak the cashew nuts in cold water for 15 minutes before adding them. Then wash them and mix the softened cashews into your smoothie. Add all the ingredients and blend, adding almond milk or water until you reach your preferred smoothie texture. Your chocolate-laced booster blend is good to go!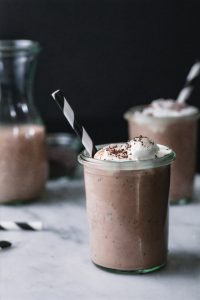 Pumpkin & Oatmeal CBD Smoothie
This smoothie is particularly delicious in winter, but with a few personal twists it goes well with any season. This is a full-bodied smoothie that will last you for a while, equally suited for a substantial breakfast or a healthy lunch.
Ingredients:
3 tbsp. of pumpkin mash (either self-made or using canned diced pumpkin);
3 tbsp. of oatmeal;
1 apple;
1 tsp. of pumpkin spices (cinnamon, ginger, nutmeg and clove);
200 ml almond milk;
Honey for sweetening;
2-3 drops of CBD Oil in your own preferred concentration.
Preparation:
Put the mashed pumpkin, apple, oatmeal, spices, almond milk, and CBD Oil in the bowl and blend it into your perfect pumpkin and oatmeal CBD smoothie!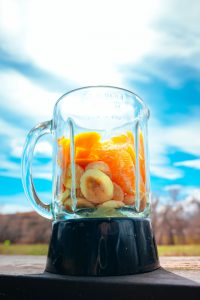 There's really no limit to what you can do with these healthy CBD smoothies. Once you get the basic idea, just go wild with all of your favourite ingredients. Try to keep varying the fruit and veggies you add, and try some new ones you're unfamiliar with every now and then. If you find certain flavours too dominant, just add a banana or avocado to even things out a bit. These recipes are simply meant to get you started, so now that you have some ideas of how to add smoothies to your diet habits, don't stop exploring new options. Go on a smoothie discovery journey and give your health a tasty boost with your own wholesome CBD smoothies!