CBD Gummies
CBD Gummies
120 mg CBD
Contains 30 Gummies and 4 mg CBD per Gummie. 
Discover the delicious CBD Gummies of SupMedi. Suitable for anyone, because the CBD Gummies are 100% natural, vegan, halal, and lactose free. The package with 30 CBD Gummies consists of four flavors: black currant: purple, lime: green, strawberry: red, and orange: orange. Order them online now!
€11.50
Out of stock
100% Natural, Vegan, Halal, and Lactose-free
30 Gummies with 120 mg CBD
Our CBD is tested by certified laboratories
Other products
Important information

How to use

Ingredients
There is no recommended dosage for CBD.
Start with a low dose.
Build up your dose until you've reached the desired effect.
Glucose syrup, sugar, gelling agent: pectin, acidulant: citric acid, acidity regulator: tri potassium citrate, natural flavours, food colourants (concentrates of carrot, safflower, spirulina, apple and black carrot), cannabidiol isolate, ascorbic acid (vitamin C), glazing agent: carnauba wax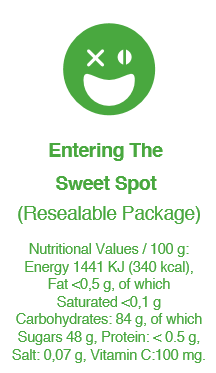 Naturally suitable for vegans and vegetarians.
Not suitable for children under the age of 4.
Not suitable for pregnant and lactating women.
If you use other medication, contact your doctor before consumption.
Store in a cool, dark, and dry place.
Keep out of reach of children.
Product information
My Sweet CBD Crush
Give in to your desires, there's never been a better excuse. Let go of all guilt, because sometimes you just shouldn't resist. It's alright, something good can also feel good…Be tempted and surrender to the wholesome and beneficial effects of CBD with our new SupMedi CBD Gummies, (without THC, or psychoactive side effects). Whether you want to use CBD to relax, calm down, relieve pain, stop stress, recover faster, sleep better, or simply because it makes you feel nice. We didn't think it could be better, but we did think it could be sweeter. Since life too often is just like a box of bitter, colorless pills: take a look at My Sweet, Colourful Seducers:
Black Currant: (Purple) Lime: (Green) Strawberry: (Red) Orange: (Orange)
Sin with a clear conscience, while our SupMedi CBD Gummies are Vegan, 100 percent natural, Halal and lactose-free. In addition, they not only come in fresh, fruity flavors, but are also enriched with Vitamin C, which ensures that the CBD is absorbed into your mouth more quickly and, in the meantime, is a natural addition to the functioning of your immune system. The sweets contain 4 mg CBD per piece (one Supmedi CBD lozenge contains 24 mg CBD), so you're allowed to be excessive, but you can also exactly determine your personal dosage. For beginners and the curious the gummies are a good way to slowly but surely find out how or how much CBD works best for them.
Treat, share, but above all enjoy. Indulging has never had so many benefits. Be sweet to yourself. My Sweet CBD Crush.