2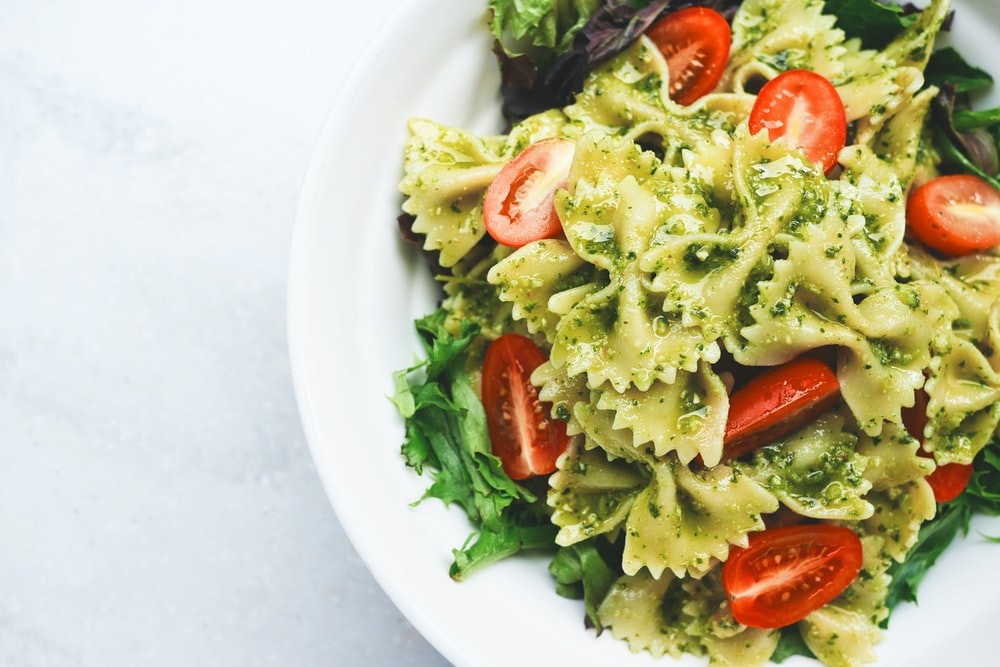 Home-Made CBD Recipe: Pasta Con Olio Di CBD!
18 September 2020
Every day, more people dicover CBD. That's not surprising, really, as this natural supplement derived from hemp plants can profe effective against a wide range of health issues. Of course, you are already familiar with our CBD Oil, CBD Tablets and CBD Skincare prodructs – but did you know CBD can be a great cooking ingredient, too? Adding CBD to your favourite recipes is a natural way to literally add a healthy and responsible touch to your food. We asked a genuine chef to unleash his creativity on delicious recipes where CBD is the ultimate secret ingredient. Today, we serve a gorgeous Italian CBD pasta. So grab your kitchen apron and get those pots and pans ready… Your very own home-made Pasta Con Olio Di CBD: you're in for a responsible feast tonight! 
Taking Your Time For A Wholesome Meal
First things first: it's important to take your time for preparing this dish the right way. If you're racing to pick up the kids at school, get your groceries, and have a quick bite before heading to the gym, you may want to save this recipe for another day with more time available. Our chef's CBD pasta is a wonderful combination of fresh, healthy, natural ingredients for that classic Italian taste – using the finest CBD Oil as a special twist!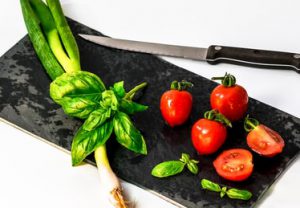 CBD Pasta – Simply Bellissima!
Our CBD pasta, the way we make it, is much more than simply chucking some instant spaghetti into the pan and adding a splash of CBD Oil. We're doing something else – let's get some proper Italian food on the table, the way Mediterranean cuisine is meant to be! The full preparation time is ninety minutes, but after that, you'll serve a spectacular dish that you've created from start to finish. CBD Oil by SupMedi is based on 100% natural olive oil: the perfect companion for this legendary Italian classic-with-a-twist!
So what exactly is for dinner tonight? We're cooking Pasta Con Olio Di CBD: authentic CBD pasta with tomato and basil. That's tasty and healthy rolled into a single great dish that's fully vegetarian, too! You'll find the ingredients below. Add them to your shopping list, get them while they're fresh, and get your kitchen ready for action. Check whether you have enough CBD Oil left; if you don't, you know where to get the best quality! Our 4% CBD Oil and 10% CBD Oil are equally suited for use in this recipe: make your own choice based on your personal preference.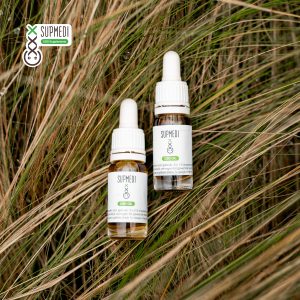 CBD Pasta – The Ingredients
200 grams of pasta flour
160 grams of egg yolk
20 grams of olive oil
20 drops of CBD Oil (10mg or 4mg, according to your normal concentration)
150 grams of cherry tomatoes
1 handful of fresh basil
1 onion
2 cloves of garlic
Salt and pepper
CBD Pasta – Kitchen Utensils
Rolling pin
Frying pan
Cooking pan
Cutting board
Kitchen knife
Pasta machine (optional)
Making The Pasta Dough
So, are we good to go? Do you have all the fresh ingredients before you, washed and ready for cooking? Got the CBD Oil ready? Right – let's get cracking!
Start out by creating a small pile of flour. Make it into a neat little mound, and push your fingertips into the top to make a small hollow. This hollow is where the egg yolk goes. Pour it into the hollow and gently stir it into the surrounding flour using two fingers, working outwards from the middle. You can use a spoon if you like, but to be honest, using your fingers just feels better, and it adds to the sense of craftmanship.
Now, add half of the olive oil and add a pinch of salt. Then, knead the mix thoroughly, after which you add the remaining olive oil and the CBD Oil. Mix it together until you have a supple and even ball of dough. Now, leave it to rest for an hour.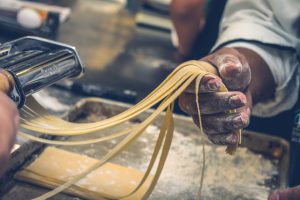 Home-Made CBD Pasta
After an hour, your dough is all ready for use. Roll out the dough using your rolling pin until you have a single thin slice spread out before you. Now, decide which type of pasta you want to make. Ravioli or farfalle are excellent choices, but if you have a pasta machine, tagliatelle is a great choice to practice your skills on.
Put a pan full of water on the stove and bring it to boil, adding a pinch of salt and a few drops of olive oil. When the water reaches boiling point, cook the pasta for three minutes and pour off the water. Turn the pasta over in a little olive oil.
Put the frying pan on the stove and heat the oil thoroughly. Lightly fry the onion and garlic, after which the cherry tomatoes join in for a brief fry of their own. Now, add the pasta and stir well until you have an even mix of all the ingredients.
The final touch consists of adding some salt and pepper, after which you serve the pasta garnished with some lovely fresh basil leaves.
So there you have it – let's get everyone to the table and enjoy a good meal. Enjoy your very own fresh Italian pasta with all the goodness of CBD. Natural delights on your own plate: buon appetito!